---
StudebakerSkytop.com
Site Navigation
---
The Studebaker Skytop Registry
Other Vehicles with Folding Fabric Sunroofs
---
Other Studebakers with Sunroofs
Over the years, there have been other Studebakers (i.e., models other than the 1961 through 1963 Larks) fitted with sunroofs, either by the South Bend factory, foreign assemblers, or individuals. Of course, as Ed Reynolds has related, there was a 1960 Lark with a Golde sunroof built in Engineering which served as the Skytop prototype. There have been a few other Studebakers with sunroofs (both fabric folding and metal) over the years, and these are offered here as interesting cousins to the Skytop cars.


---
'64 Daytona Hardtop
with a Golde Sunroof, owned by Desiree Koller of Austria. Desiree is currently having some work done on her Daytona to prepare it for registration with the government.
Your Webmaster may be somewhat prejudiced (being a big fan of the '64 Lark styling), but believes that the Skytop option fits in as well or better with the '64 redesign than with the '61 - '63 styling. Look at the pictures below and see if you agree or not.
Back to Desiree's car..........this car was assembled in South Bend on December 11, 1963 and the destination on the Production Order is listed as Basle Switzerland. Serial number is 64V 18486 with engine number VN304. It was a well optioned car, with some of the equipment being overdrive transmission, disc brakes, split front seats (but not reclining), HD springs, HD shocks, HD clutch, HD engine, six-blade fan, HD model 44 rear axle with 3.73:1 ratio, parking brake warning light, wheel discs, Hill Holder, and Firestone 500 whitewall tires. Other interesting items on the Production Order are 12 METRIC SPEEDOMETER; 362 OMIT HOOD ORNAMENT; and 206 FRT DIR SIG WHITE BULB. The car was originally painted P6416 Moonlight Silver. And no, there is no indication on the Production Order that the car was fitted with the Skytop assembly at the factory. Most likely it was fitted in Europe at a later date, possibly by the importing dealer.
Desiree's car is a glimpse of what could have been, if Studebaker had been in better health in early-to-mid 1963 when the 1964 models were being finalized. If anyone knows more about the early history of this car, please contact the Webmaster at
webmaster@studebakerskytop.com
---
'58 Golden Hawk
with a Webasto Sunroof, built by the Belgium Studebaker assembler. The last two pictures can be double-clicked to open up larger images:
---
1953 Starliner

with a Skytop, customized in early 1964 by Studebaker Stylist Paul McKeehan. Later model components were used liberally, including the Skytop assembly, '64 Hawk gauges and AM/FM radio, overhead Avanti rocker switches, a black prototype Avanti steering wheel with a Hawk horn button, '64 Hawk front and rear seats, a '64 Lark foot-operated emergency brake pedal assembly, electric window lifts from '55-'58 Studebakers, a '64 Lark firewall-mounted master cylinder, 289 engine/Powershift transmission combo, rear traction/stabilizer bar setup, and '57/'58 springs front and rear. Two pictures of the completed car are shown below, with the second picture taken in front of southern California's
The Art Center School of Design
of which Paul was an alumnus. Information and the first two pictures are used with permission from Turning Wheels, the Studebaker Drivers Club's monthly publication; the article appeared in the December 2003 issue and was written by, and pictures provided by, Paul McKeehan.
The last two pictures are of
the same car
as it appeared in an eBay ad in early 2006. The many other pictures in the eBay ad left no doubt that this was Paul McKeehan's car, and it looked pretty solid and complete, and with minimal changes. The current owner of this car is Ken Dollar of Englewood FL. Ken has the car for sale, or would be interested in trading for a '53/'54 S
tudebaker coupe (C-body). If you are interested in talking to Ken about purchasing this car, email us at
webmaster@studebakerskytop.com
and we will provide Ken's contact info.
All four pictures can be double-clicked to open larger images:
---
1956 Golden Hawk
with a Golde sunroof, owned by Dwayne Jacobson of Junction City WI. Dwayne says that the car was previously owned by an individual in the US Air Force, and the Golde sunroof was installed while the car was in Germany. At the time that Dwayne sent the pictures, the car was for sale. Click the pictures to open up larger versions:
---
Others:
According to Richard Quinn, there was also a prewar Studebaker built with a metal sunroof. Hopefully we can obtain details from Richard and provide this information in the near future.
Fabric folding-type Sunroofs on other US manufacturers' vehicles:
Other US automobile manufacturers utilized fabric folding sunroofs up into the 1970s. Below are some that I have found, but I am sure there are others. If I missed some, please let me know!
Whether these GM, AMC, and Chrysler sunroofs were Golde products is not clear, but they very well may have been. If anyone has any specific information to share concerning this issue, please contact us at webmaster@studebakerskytop.com.
Chevrolet:
1972 and 1973 Chevrolet Nova had an optional fabric folding sunroof called the "Skyroof", or officially the "Ventura II Folding Sunroof". Apparently these Skyroofs were available on some of the other Nova 'clones' (ie, Buick Apollo, Pontiac Ventura, Oldsmobile Omega) also.......see Pontiac below.
Finally, some 1972 Nova Skyroof (or Sky Roof?) factory items:

Pontiac:
From various sources, it appears that the Skyroof was optional on the Pontiac Ventura II in 1971 & 1972, and possibly in 1973. If you have information that clarifies the years, please let us know. Following are pictures of a 1971 Pontiac Ventura II Spring (the white with black stripe car) and 1972 Pontiac Ventura II models with Skyroofs:
Buick:

American Motors:
In 1971 and 1972, AMC used fabric folding sunroof on their small models (Gremlin, Hornet, and Sportabout). A color AMC ad showing sunroofs on these three models is below:
Another similar ad with text from the www.javelinamx.com site:
http://www.javelinamx.com/JavHome/articles/71sunrof.jpg
A 1972 Gremlin factory photo showing a sunroof is here, along with a similar Gremlin X from a 1972 AMC ad (thumbnail linked to a larger picture)::
Chrysler:
Fabric folding-type Sunroofs on foreign manufacturers' vehicles:


A
Jaguar
sliding roof link is at:
http://www.jcna.com/library/tech/tech0027.html
, which mentions the Golde sunroof, plus a similar unit by the name of Webasto. Close-up pictures of Webasto fabric folding sunroofs can be found on the 56-59 Karmann Ghia Registry at:
http://karmannghias.org/Webasto.htm
The basic construction is quite similar to the Golde fabric folding sunroofs. The Webasto name is still used for sunroofs, here:
http://www.webastoshowroom.com/index.html

.
Of course, when most people think foreign cars with fabric folding sunroofs, they think of the cute

Volkswagen Beetle

! Most VW historys indicate that Volkswagen used fabric folding sunroofs on 1950 through 1963 Beetles. From the information I have been able to find, it appears that most if not all the Volkswagen folding fabric sunroofs were Golde products; if anyone can provide more substantial information, please email us. Some photos are here:
Volkswagen Beetles -- the first two pictures show a 1950 Beetle with sunroof, and the second two pictures show a 1963 sunroof Beetle. All four pictures can be double-clicked to bring up larger images.
Overhead shot of a sunroof Beetle, year unknown (scroll down):

http://www.aircooledads.com/web%20page/calendar/63oct.jpg

Of course, probably the most famous sunroof Beetle has to be Herbie the Love Bug. The first picture is actually one of the many Herbie clones, courtesy Beetle Drive UK. The second picture is a publicity shot from the original 'Herbie' movie.
In addition to the Beetle, the

Volkswagen Type 2 Transporter

('Bus', or 'Microbus/) was also available with fabric folding sunroofs, starting in 1951 and continuing through 1967 when the second generation Transporter was introduced. Some histories indicate that a Transporter with a sunroof was called a Samba. And, finally a couple of good picture of Transporters with sunroofs (and a bonus Beetle):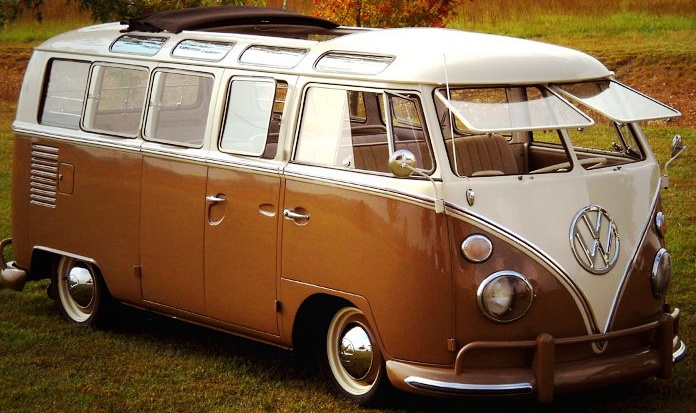 Borgwards

also had fabric folding sunroofs, as seen below,
courtesy of Lars Källbom's Borgward site. According to Lars, "Borgward used both Golde and Webasto as supplier for the sunroof. I have in my possession a Golde roof from the scrapped red Isabella TS. I think that Golde was the prime supplier and it also was dependent on if it was canvas top or steel sunroofs for Isabella sedans or the coupe."

---
Questions or comments? Please contact us at
webmaster@studebakerskytop.com