---
StudebakerSkytop.com
Site Navigation
---
The Studebaker Skytop Registry
Skytop 'For Sale & Wanted'
---



FREE

'For Sale' and 'Wanted' ads for Skytop cars, and related parts!

Send ad requests to webmaster@studebakerskytop.com.............



Be sure to include your contact information (Name, Address, Phone Number and/or Email Address).




---
NEW!! NEW!! NEW!! NEW!! NEW!! NEW!! NEW!! NEW!! NEW!! NEW!!
---
For Sale:
1953 Starliner with a Skytop, customized in early 1964 by Studebaker Stylist Paul McKeehan. Later model components were used liberally, including the Skytop assembly, '64 Hawk gauges and AM/FM radio, overhead Avanti rocker switches, a black prototype Avanti steering wheel with a Hawk horn button, '64 Hawk front and rear seats, a '64 Lark foot-operated emergency brake pedal assembly, electric window lifts from '55-'58 Studebakers, a '64 Lark firewall-mounted master cylinder, 289 engine/Powershift transmission combo, rear traction/stabilizer bar setup, and '57/'58 springs front and rear.
The car is still in very good condition, exterior body panels are excellent. Trunk needs at least one side with one support, also one front floor pan. Rocker boxes are good, all glass is good. All electrical needs to be redone. The car runs very well; the brakes are not good but will stop. The transmission has no reverse (maybe a broken band?). Would sell or trade. Will trade for a '53 through '61 coupe with '53/'54 front and deck lid, running or not, but body must be as solid/as good as mine. Contact Ken Dollar at sunrizes2@yahoo.com, please reference all emails to 53 SKY TOP. Phone 8am to 5pm Eastern Time at 1-941-809-5051 Monday through Saturday.
(posted 03-06-2011)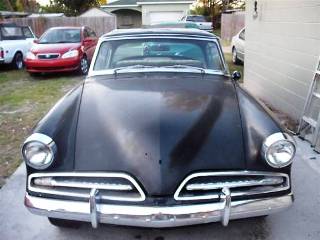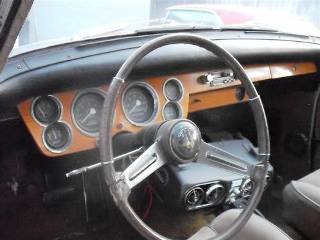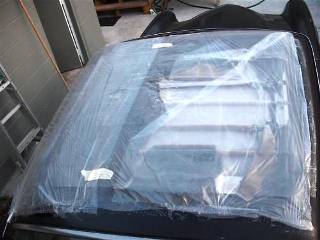 ---
For Sale:
1956 Golden Hawk

with Golde sunroof. T
he car was previously owned by an individual in the US Air Force, and the Golde sunroof was installed while the car was in Germany.

Contact Dwayne Jacobson at 715-572-7292 or email at
studebaker56j@mac.com
(posted 03-06-2011)
---
Questions or comments? Please contact us at
webmaster@studebakerskytop.com