Brake System
Last updated 03-28-2009
The brake system was fully redone. Rear drums were excellent, and were just cleaned, friction surface scuffed, and the drums painted. The wheel cylinders and shoes were replaced, along with the emergency brake cable.
The front brakes were replaced with a Turner disc brake conversion system. I purchased the kit with just the bracket, fasteners, and spindle spacer from Jim Turner, and sourced the other component from local parts houses. Jim's kit is excellent, and support is just an email or telephone call away. Follow the instructions closely, call Jim if you get stuck, and you will be fine.
NOTE: Most if not all of these smaller pictures can be clicked to bring up BIG versions. After you view the big version, use your browser 'back' arrow to get back to the blog.
Following are some pics of the disc brake setup: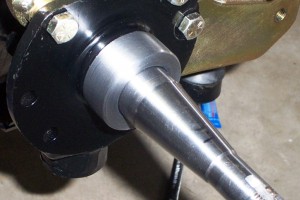 Note in the picture above, when the spacer is installed there is a 90 degree shoulder for the inner bearing to seat against, instead of the radiused shoulder originally on the spindle. I took advantage of this and used a slightly different inner wheel bearing par number that is not radiused, to ensure maximum surface contact between the ID of the wheel bearing and the spindle surface.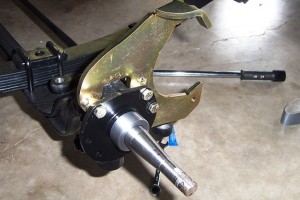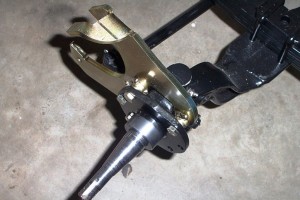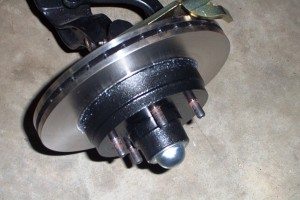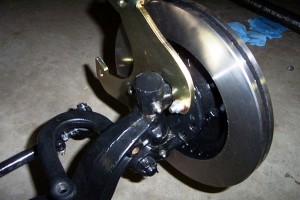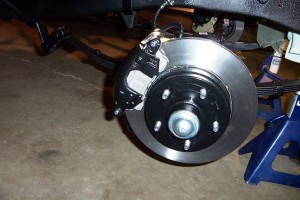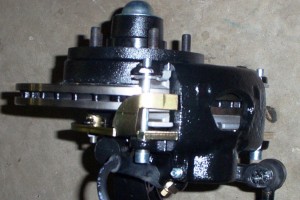 New front brake lines were bent and double flared to match the original. The coiled protectors on two of the brake lines are from the original brake lines, slipped on before the last flare was made: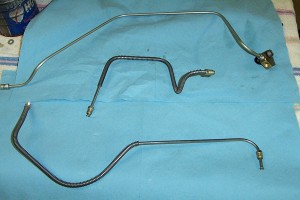 New hoses were installed from the hard piped lines over to the calipers.
The master cylinder will be a dual setup with booster, mounted on the firewall (remember, the later Champ trucks went to a firewall mounted master cylinder).