Beginnings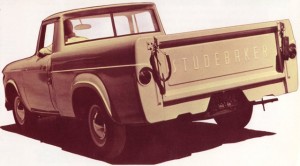 My 1963 Studebaker Champ 8E5 truck was purchased a number of years ago - best I can figure right now, it was about 10 years ago. I actually knew of this truck 20 years ago after seeing an ad in the local 'Trading Post', but missed buying it by about 1 day. I soon found out that another Studebaker owner in Colfax had purchased it - he came by my house looking for a source for a piston. (This guy also had a decent '58 Studebaker Commander J-body hardtop that was for sale…..I kick myself now for not buying it!).
He kept the truck for a while, and then sold it to another guy in Stokesdale who purchased it for his son. He had a paint job done (with less than stellar bodywork - can you say BONDO?!) and the truck looked OK. But the son didn't want it, so it was up for sale again. Looked at it but the price was too high.
In early 1998 a friend mailed me a page out of the local 'Truck Trader' - there it was again, now in Reidsville. The engine was out, rust had started to appear on the bodywork, but it was a good starting point. Finally it came home…..on a trailer.  Right now, I can't find any pictures of the truck when I brought it home but will look again and add them if found. (No, the picture at the top of this page is not my truck…..it was scanned from the 1963 Studebaker Champ sales brochure.)
Over the last 10 years there has been quite a bit of work:
Fully disassembled (I'm good at that…..just not really good about getting them back together again<G>)
Chassis blasted, painted, and totally rebuilt as an 8E7 (V8) with correct NOS springs, fully rebuilt 259 8E truck V8, Turner disc brake system, new fuel lines, new brake lines, etc, etc, etc……..
All the little inside parts have been redone and ready to install - brake pedals, heat system, regulators, etc
Stainless steel dual exhaust from Silvertone (partially mocked up)
15×6″ Chevy Express Van wheels converted to use the stock Champ stainless steel hubcaps
Original oil bath air cleaner modified to use a dry element and to fit  on the Edelbrock AFB
Floorboard and rocker panel repairs just beginning
Here is the Production Order for my truck, obained from Newman & Altman in May of 1998; click on the image to open a larger image: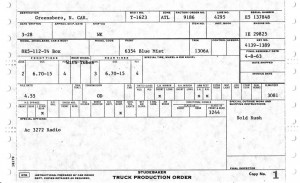 The dealer in Greensboro was:
Dixie Sales Co., Inc.
327-329 Battleground Ave.
Greensboro, NC
All of the work to bring back this truck will (hopefully)  eventually be documented on this blog…………stop back often to see the progress.