Oil Bath Air Cleaner Mod to Dry Filter Type
 Last Updated 03-30-2009
What type of air cleaner to use??  Since the engine has an Edelbrock 500 cfm AFB, the stock Stude air cleaner could not be used unless the carb top was swapped for an earlier top. A chrome air cleaner was considered, but decided that would look out of place. It was finally decided to try and modify a 1964 Stude oil bath air cleaner for a dry filter.
No, a 4bbl oil bath was not cut up (altho one was available). A 2bbl that came with a '62 Cruiser engine was used. The 4bbl oil bath was used for height reference, however.
The following pictures show how an oil bath air cleaner was modified to take a dry element, by using a 10″ Mr. Gasket chrome air cleaner.
The first few pics are of the original 2bbl 1964 Studebaker oil bath air cleaner before modification: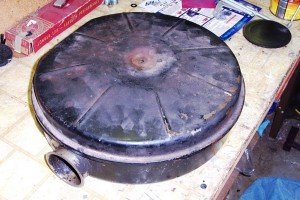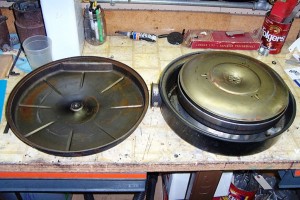 There were only two spot welds that held the inner oil 'holder' to the air cleaner base. In the photo below, these have already been drilled out, but the two pieces have not been separated yet: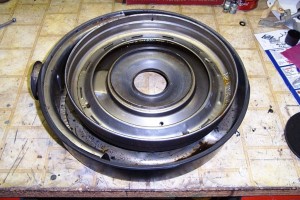 Inner 'oil reservoir' removed: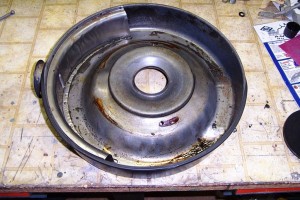 A little cleaning and some light color primer, and there was a good surface to mark for cutting. Decided to use a sabre saw with a metal cutting blade, and then dress it up with a stone on the air die grinder: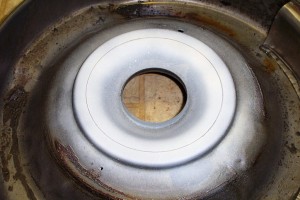 Center portion cut out: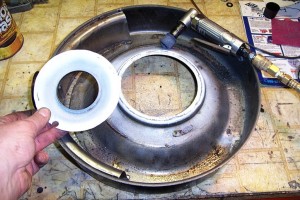 Holes were drilled around the edge, and the oil bath air cleaner base will be rosette-welded to the bottom portion of the Mr. Gasket air cleaner: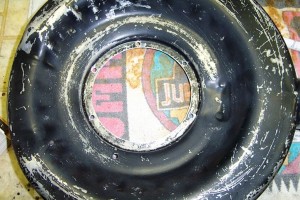 I know, a little out of sequence. The modified oil bath air cleaner needed to be spaced up to fit on the Edelbrock AFB but was a little worried about having the top of the air cleaner TOO high tho. Here is the spacer shown on top of the carb.
By using the original 4bbl Stude oil bath air cleaner and a Stude 4bbl AFB, it was determined how high off the intake the original oil bath would have been. Luckily, the top of the modified oil bath will be within about 3/16″ of the original.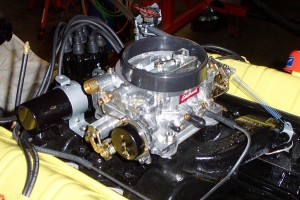 The Mr. Gasket air cleaner base has since been welded to the bottom portion of the oil bath air cleaner, and the top and bottom portions have been prepped and primed. As soon the two halves are finish coated,  some "finished product" pictures will be posted.
One item that still needs to be sourced is a new rubber seal that fits between the outer edges of the top and bottom oil bath halves.